The Divi Black Friday Sale is live! Act NOW to get HUGE SAVINGS on Divi, Divi Marketplace products, Divi Cloud, Divi Teams, and so much more! We're also giving away more than 18,000 prizes, worth more than $1.1 million with every qualifying purchase! And that's not even close to everything we've got in store for you. For all LIfetime Divi Members and anyone who participates in the sale, we're giving away exclusive, FREE Divi layouts and templates as well as a massive slate of additional deals in the Divi Marketplace.
[embedded content]
There's No Better Time to Join the Divi Community & Ecosystem than RIGHT NOW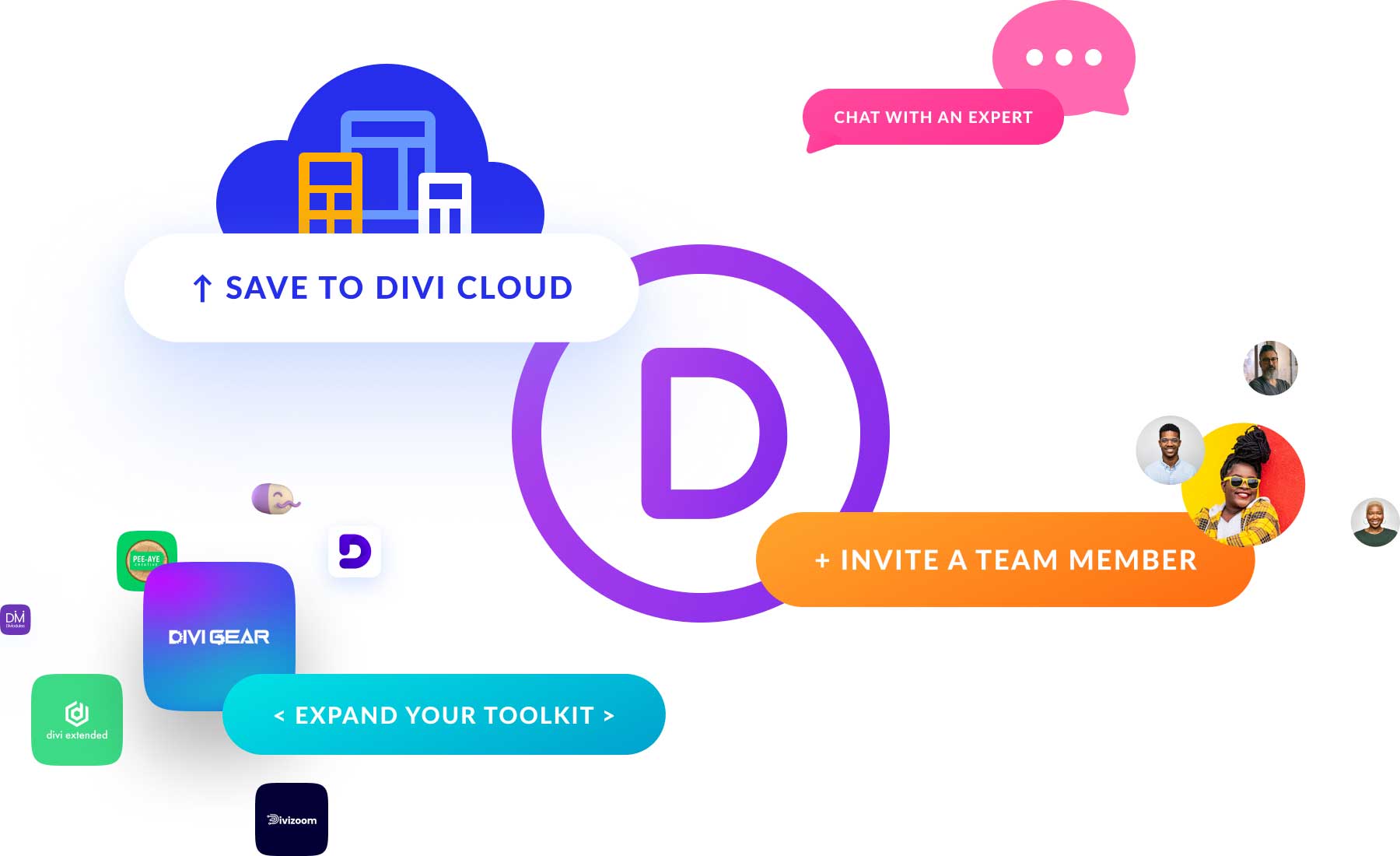 For those of you who are interested in Divi, we thought it'd be a good idea to explain what a tremendous value Divi really is.
Most of you know that WordPress is free, right? That's true, but when you start adding up the cost of the themes and plugins needed to really create what you want, the price can quickly skyrocket. Sure, you can go with other premium themes and plugins, but it can cost you upwards of $1,000. And in many cases, that's the annual price! Yikes! Not to mention compatibility between your essential tools can become a huge headache too.
With Divi, you get a full site editing theme along with 200+ web design elements, 2,000+ professionally designed page layouts, A/B split testing, email opt-ins, forms, dynamic content, global settings, a dynamic color management system, and many more features that replace dozens of disjointed plugins. All for the low price of $66.75 per year, or $186.75 for a lifetime membership – if you act NOW. This is a substantial savings of 25% off our already super low regular price. Now THAT is a fantastic deal. And it's only the tip of the iceberg when it comes to this sale.
Here's a full rundown of all the amazing deals we have on offer during this year's Black Friday Sale:
25% OFF 🏷️ Every Divi Purchase
25% OFF 🏷️ Every Divi Upgrade
44% OFF 🏷️ Every Divi Cloud Purchase
44% OFF 🏷️ Every Divi Teams Purchase
60% OFF 🏷️ Every Divi Marketplace Bundle
Up to 60% OFF 🏷️ Individual Divi Marketplace Products
Act now to claim these insane deals! Don't know what all of these products and services are just yet? Read on!
Divi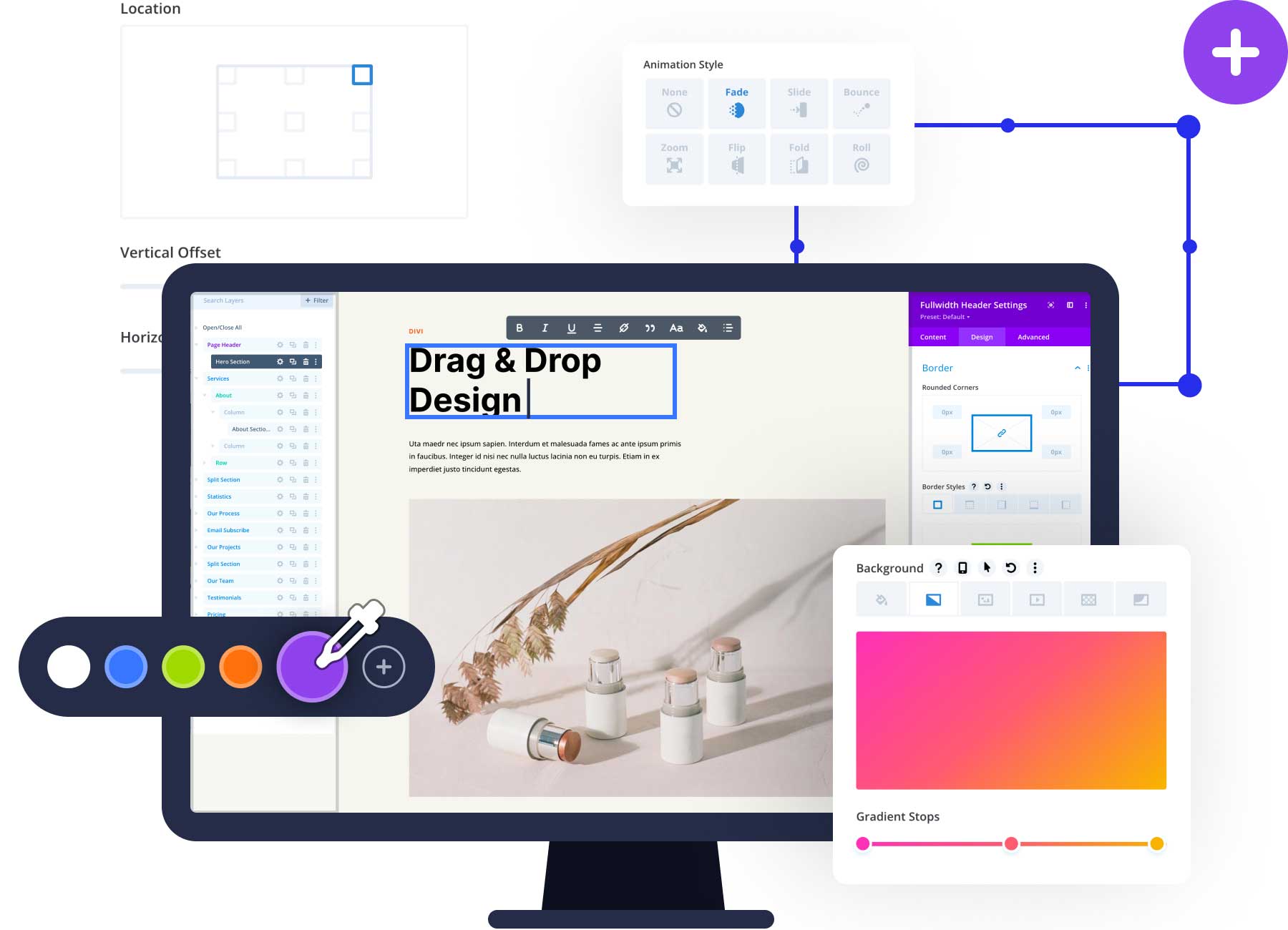 As a WordPress theme, Divi brings a lot to the table. It's a no-code, website building framework packed with professional design resources and a wealth of functionality. You'll be able to build unique and functional websites without ever having to learn how to write code. In fact, anyone can create a website that meets their needs with Divi. It replaces the standard WordPress Editor – both Gutenberg and the Classic Editor – with a sophisticated, yet easy-to-understand interface. Divi's visual editor is powerful enough to not only assist you in your website building tasks, but can also replace several popular plugins at no additional cost. You can save hundreds, if not thousands of dollars per year by adding Divi to your web design toolkit!
Divi Cloud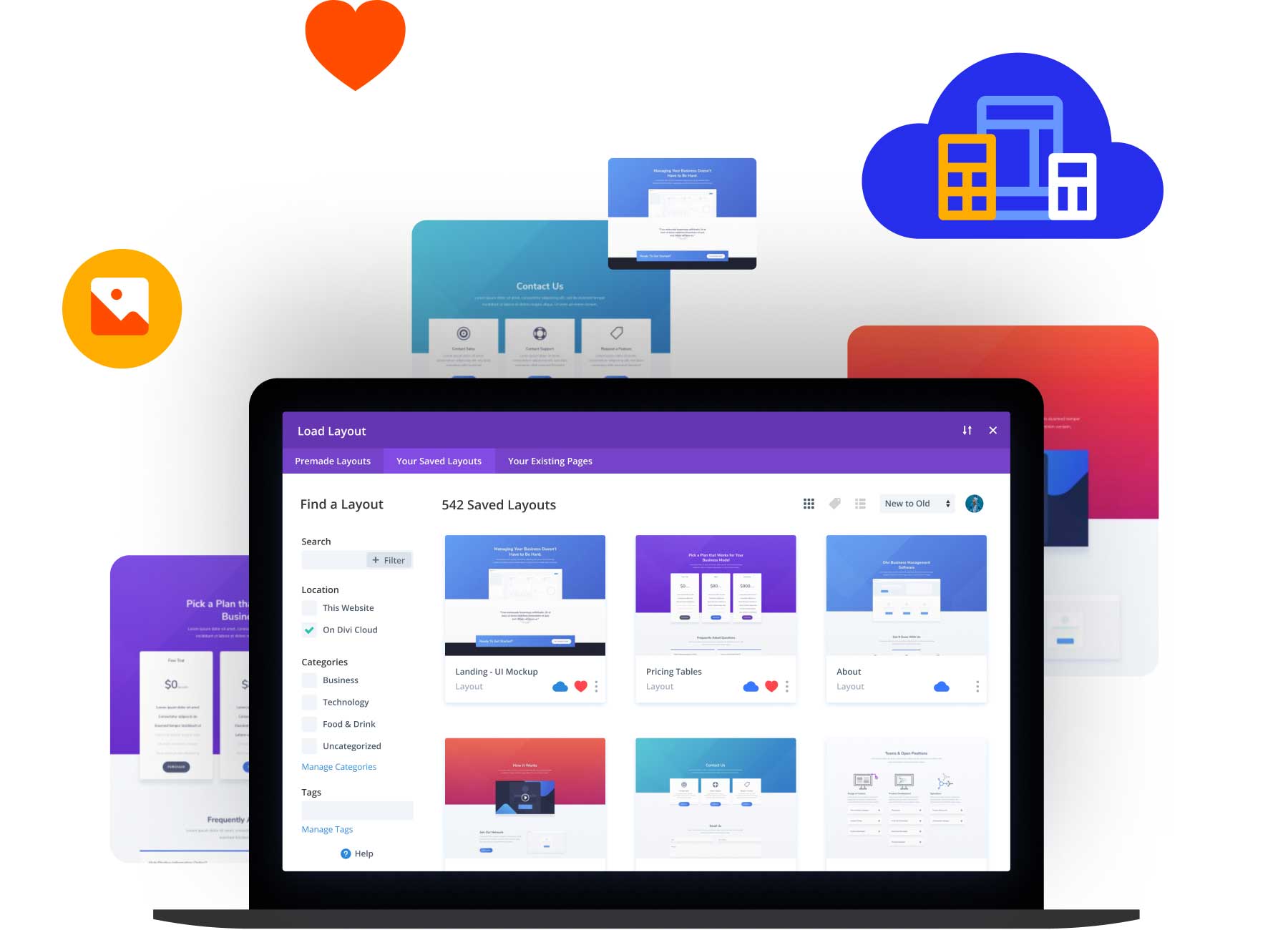 Think of Divi Cloud as Dropbox, One Drive, or iCloud–but for your Divi websites. Divi Cloud is a storage system that is incredibly beneficial to Divi Agencies, Freelancers, or anyone building multiple Divi websites. Saving items to your Divi Cloud via the Divi Library gives you the freedom to access your saved elements from any Divi website that you're signed into. You no longer need to move JSON files from one site to the next. By simply using Divi Cloud, you have an instant time-saver that pays for itself immediately!
Divi Teams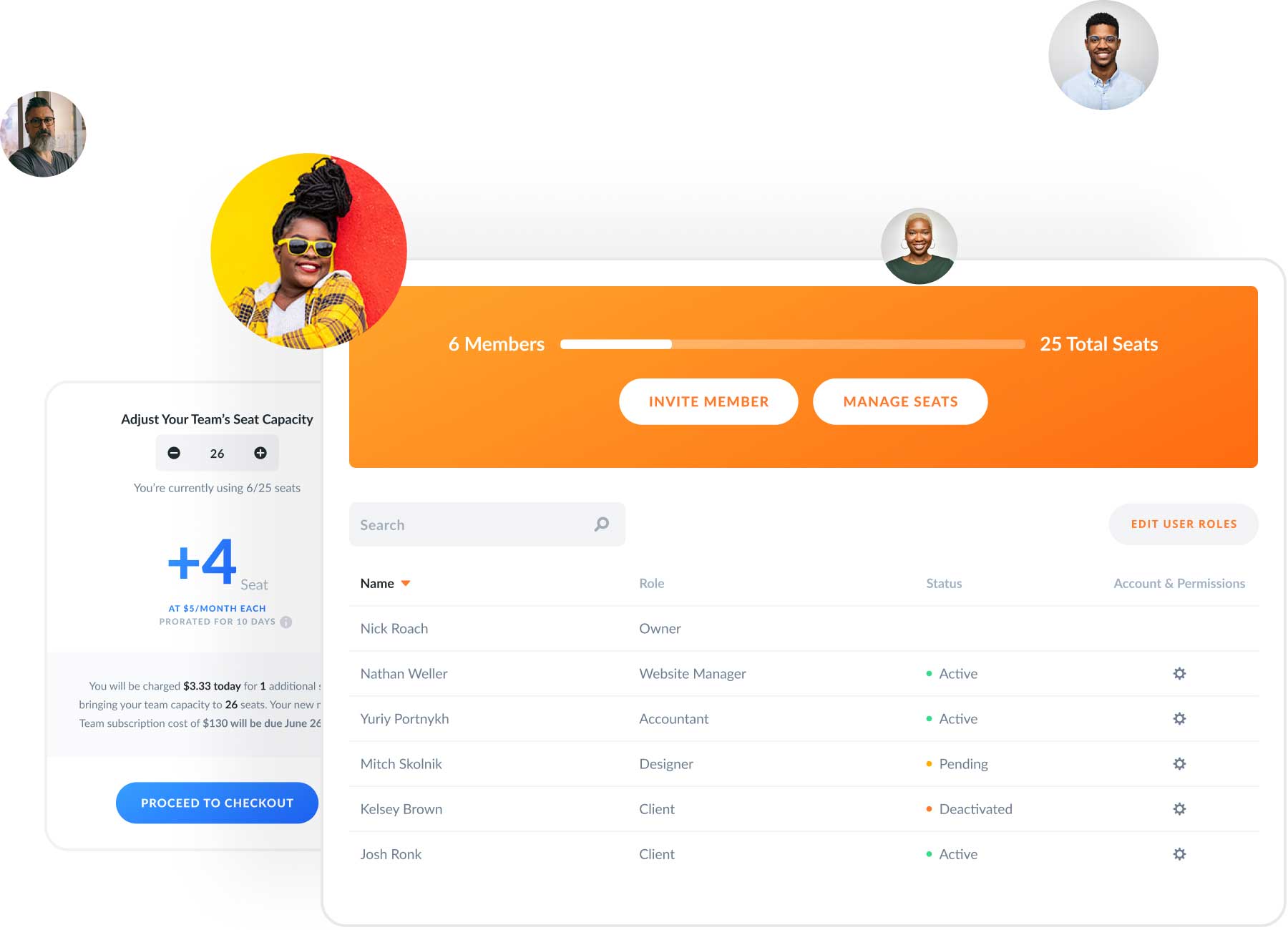 Collaborate with your clients and colleagues like never before with Divi Teams. You now have the power to add new team members to your existing Elegant Theme account. Save money by adding a new Divi Team seat to your profile, as opposed to opening a brand-new, standalone Elegant Themes account. Every team member can inherit the full benefits of the parent account. However, as the main account owner, you have the luxury of assigning roles and permissions to the users under your control.
Your entire team can access the same cloud storage with Divi Cloud. Designers no longer need to ask for credentials to access Divi. Developers are now empowered to spin up new websites and generate API keys without the back and forth that comes with sharing passwords. Furthermore, your finance department can have easy access to billing, without getting lost in the world of web design. Give each member of your team the access and tools that they need to move your business forward by integrating Divi Teams into your business today.
Divi Marketplace Bundles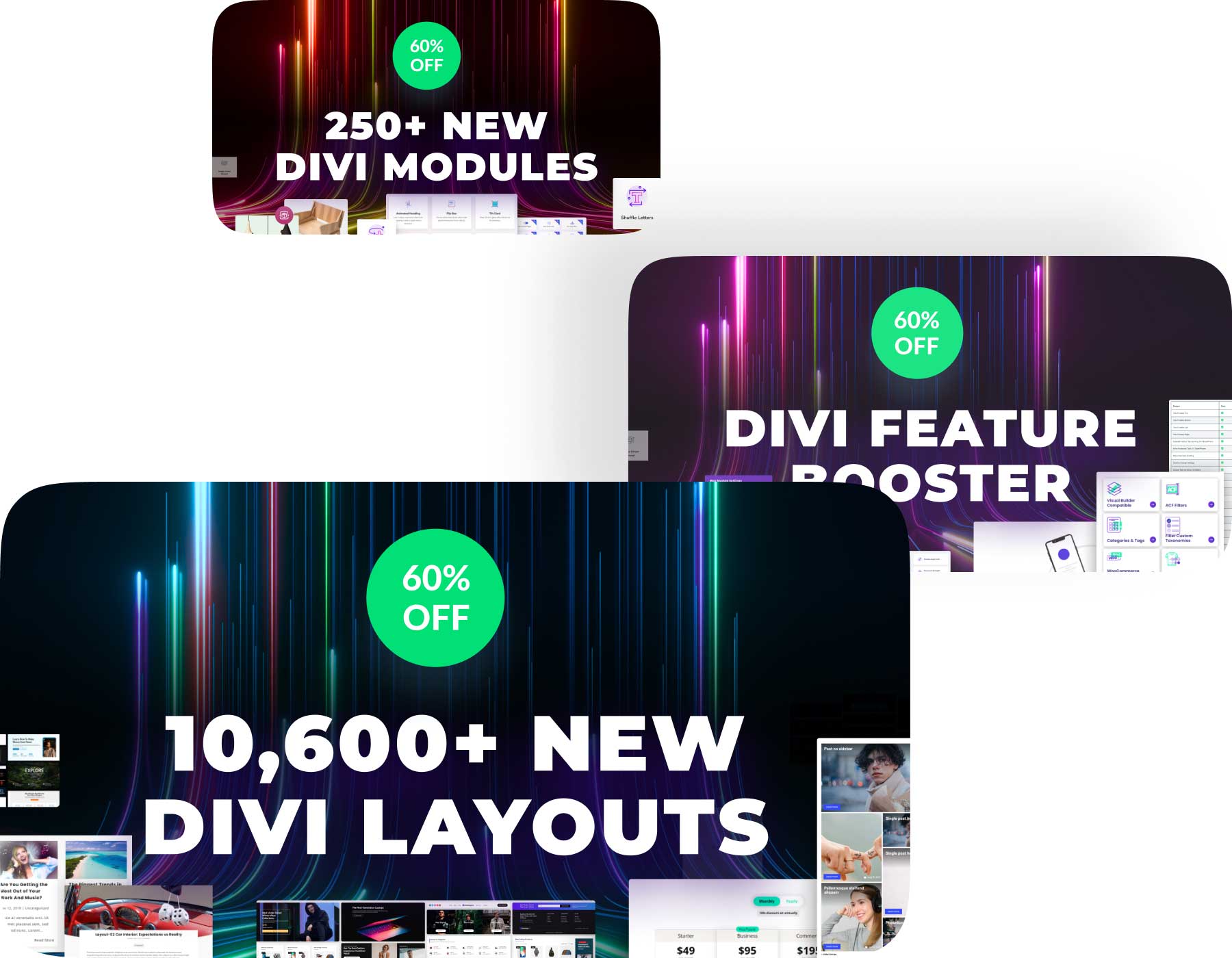 Through unified development standards and rigorous testing, the products on the Divi Marketplace not only work as they're intended to, they seamlessly elevate a product you already love. On the Divi Marketplace, you get the best of both worlds. You get the creativity that comes from community created products paired with the oversight and accountability of a single set of development standards. And during our Black Friday Sale, we're piling on the value by bundling together huge collections of products at 60% off!
Win a FREE Prize with Every Qualifying Purchase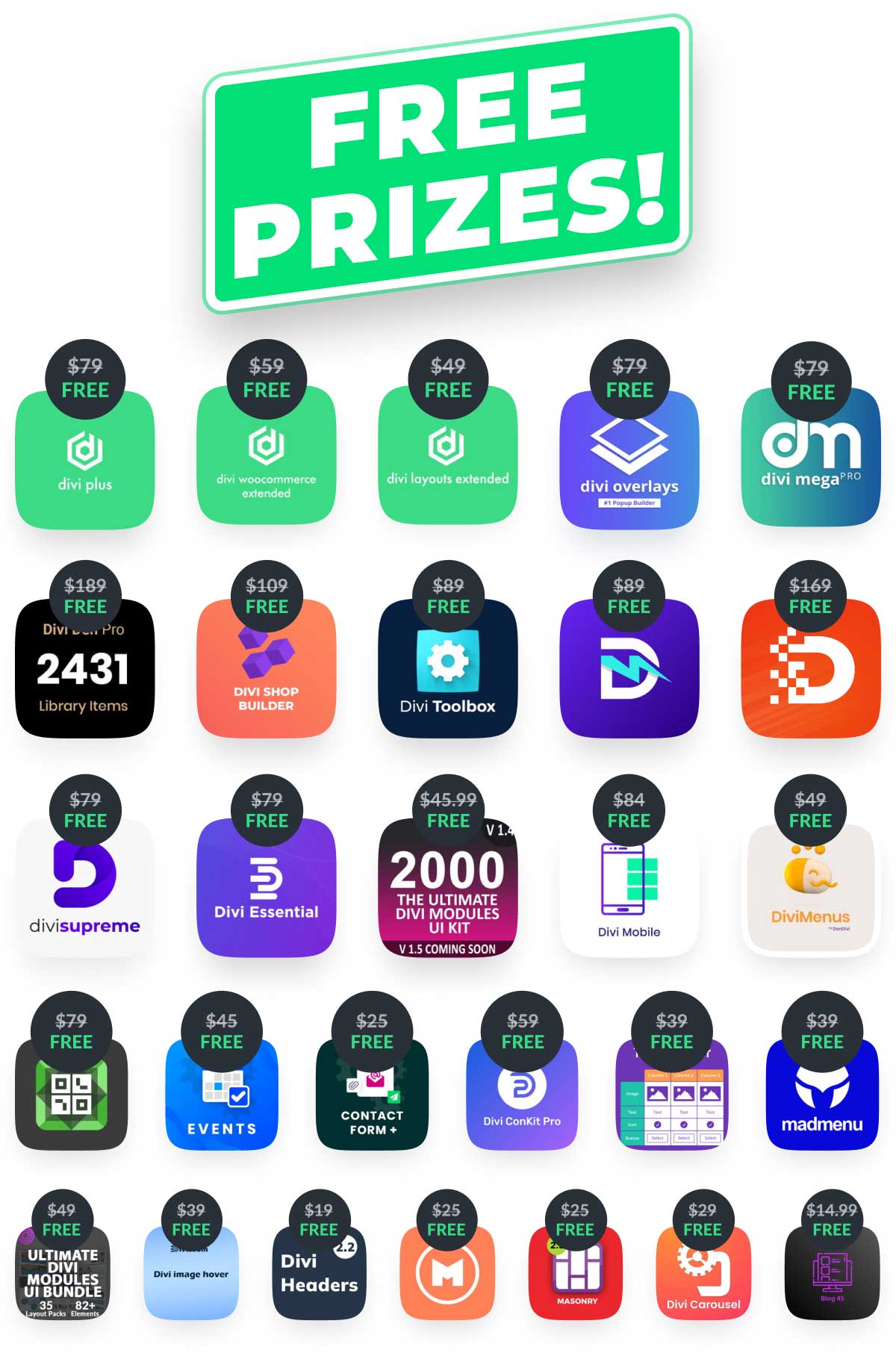 This year, everyone who takes part in our Black Friday and Cyber Monday sale will get a free prize. We're giving away over 18,000 prizes valued at over $1.1 million. Unlike previous years, everyone will walk away with a free prize – including existing lifetime members! And you can win more than one free prize! You'll get a free prize with every qualifying purchase you make. In fact, you COULD get your hands on up to $567 worth!
How, you ask? Make any one of these qualifying purchases:
One Free 🎁 For Every New Divi Membership
One Free 🎁 For Every Divi Account Upgrade
One Free 🎁 For Every Divi Cloud Purchase
One Free 🎁 With First Divi Teams Purchase
One Free 🎁 For Every Marketplace Bundle Purchase
You'll notice during each purchase that there is an "active" prize. It'll say something like "Current Free Prize. Only 10 Remaining." That's the prize that you'll win, if you make your purchase while they last. If you review the prizes available below you can try to time your purchases to get the specific prizes you want.
Get 60% Off These Outstanding Divi Marketplace Bundles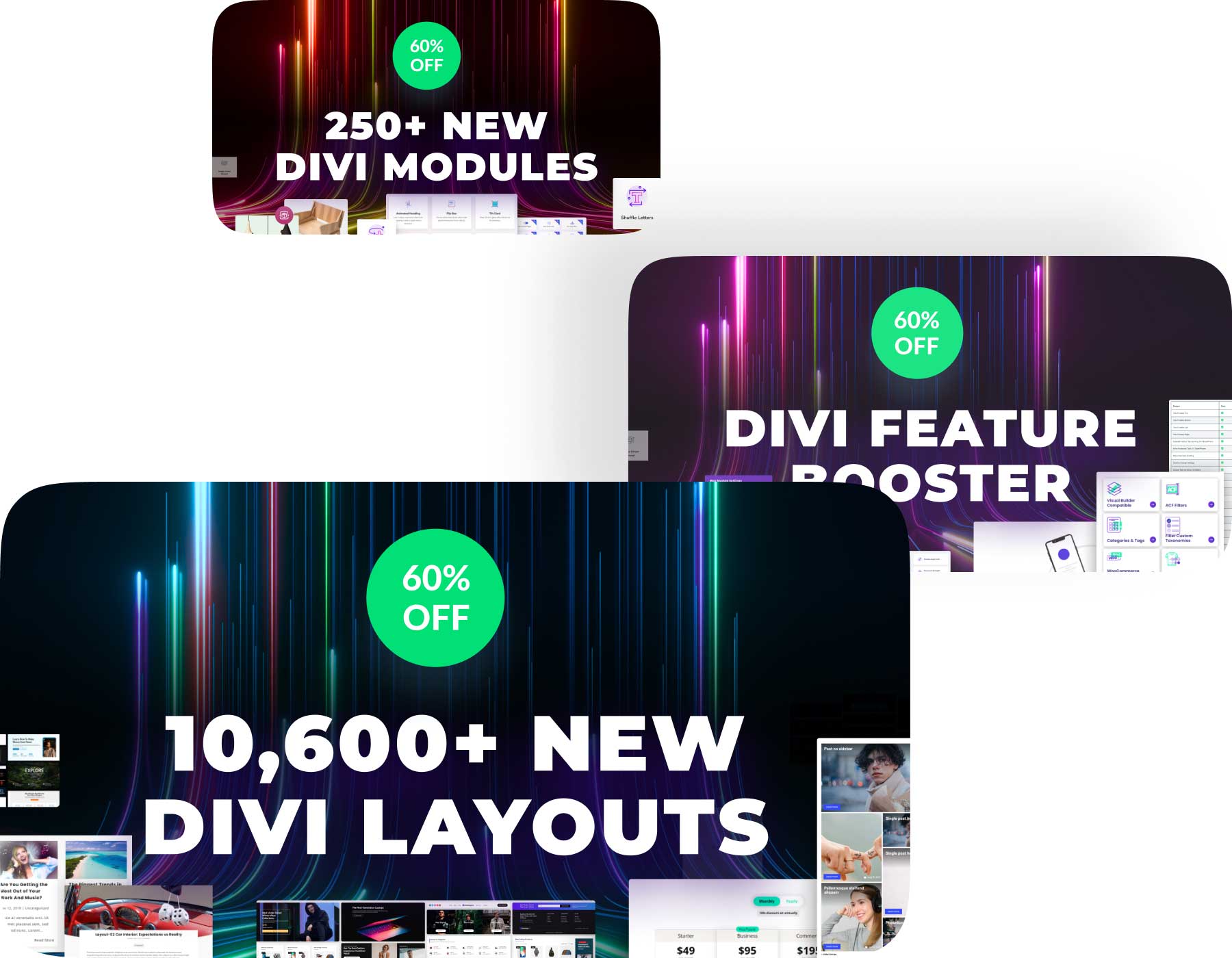 The Divi Marketplace is where the Divi Community flexes its design and development skills. There are hundreds of amazing third-party Divi Extensions, Layouts, and Child Themes. All of which have gone through our strict quality assurance testing. That means you get the best our community has to offer while also being assured things work together – and with Divi – the way they're supposed to. But we're always asking ourselves, "How could we make things better?" How about packaging a carefully curated selection of our best third-party modules, layouts, and features into three massive product bundles and then marking them 60% off?!
Get 60% Off The Divi Black Friday Module Bundle!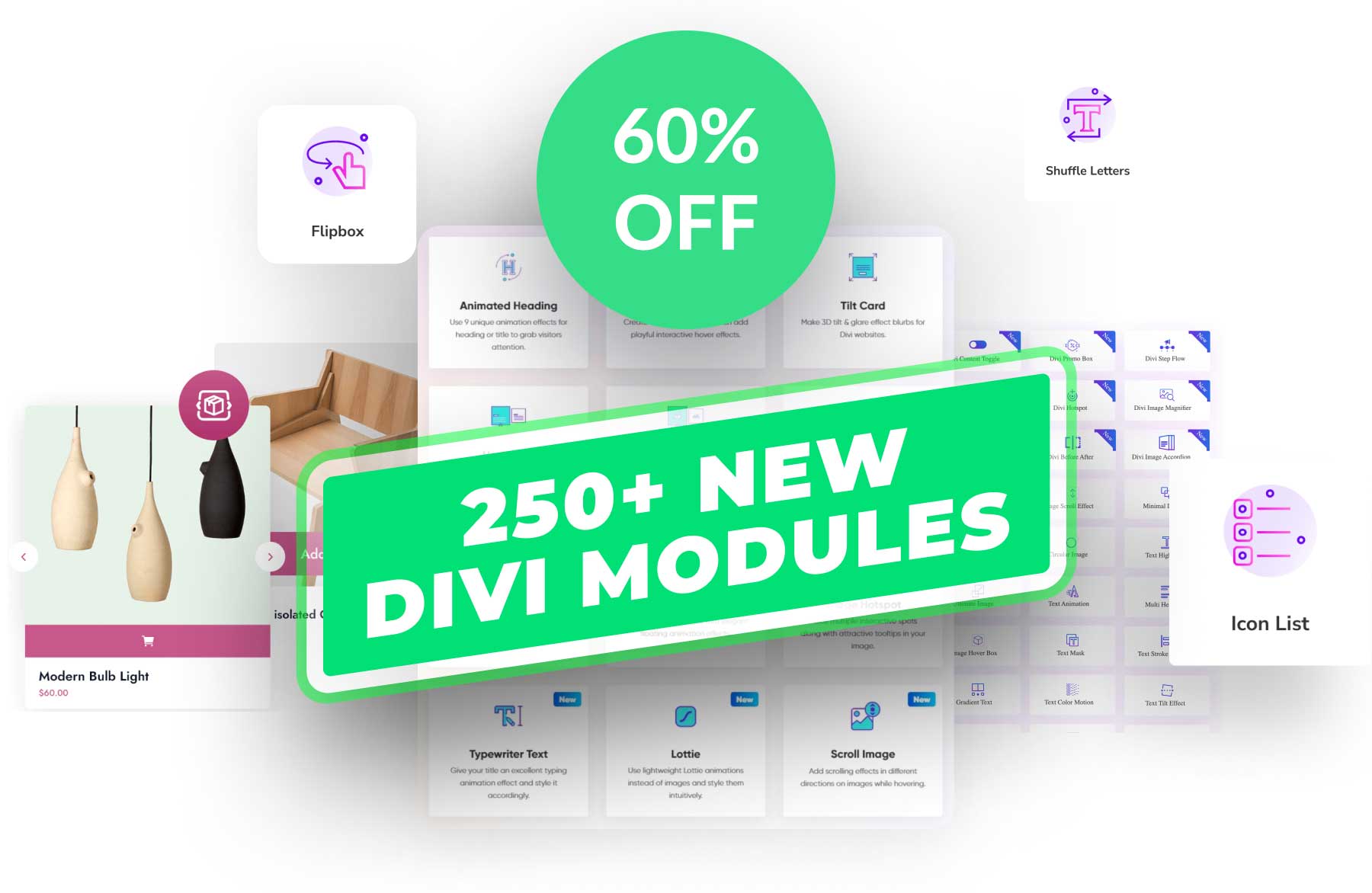 Add 250+ new Divi modules to your Divi toolkit for a fraction of the price it would cost any other time of the year! With our Black Friday Module Bundle, we've packaged 7 of the Divi Marketplace's best module collections together. Everything from page layouts to product layouts; blog layouts to headers and footers are included in this bundle–and that's not all! We don't make a bundle like this every day, so now is the right time to snag this deal! The only time you will see THIS bundle is THIS Black Friday! Once the sale ends, you won't be able to get this bundle again! Don't miss your chance to add the very best in Divi modules to your WordPress arsenal! Save hundreds of dollars and boost your Divi website-building skills and speed by purchasing the Divi Black Friday Module Bundle!
Get 60% Off The Divi Black Friday Layout Bundle!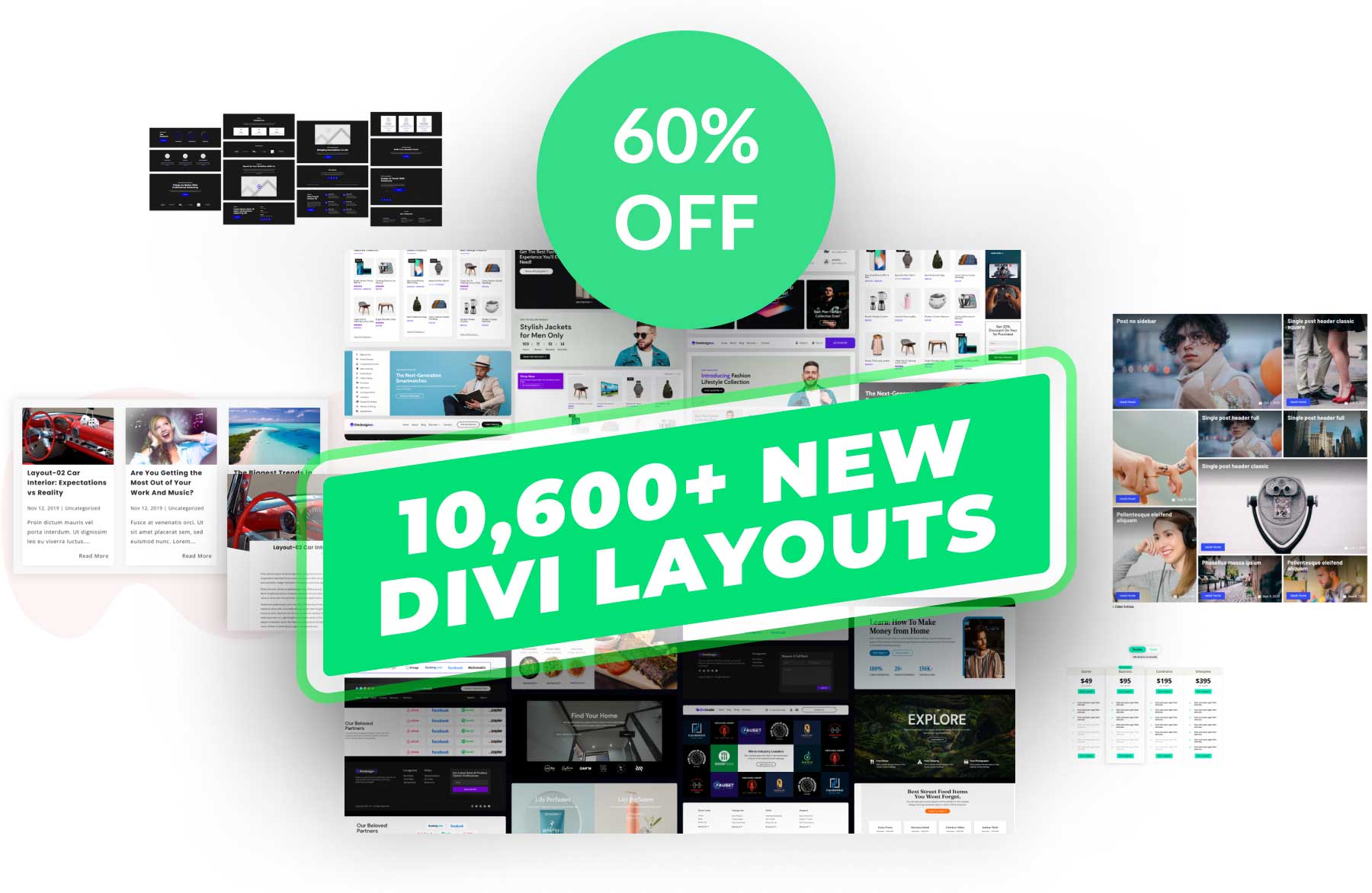 The largest Divi layouts bundle is here… but only for a limited time! If you find yourself stuck for inspiration, this bundle will get you unstuck ASAP. We have packed together over 10,600 pre-made designs, just for you. You can look forward to receiving: page layouts, product layouts, blog templates, header templates, footer templates and so much more–all at 60% off! You have to grab this steal of a bundle before the timer runs out. Black Friday is the ONLY time that you'll be able to grab 12 of the Divi Marketplace's best-selling, most popular layout packs. Save time when designing your next year's worth of projects by seizing this deal!
Get 60% Off The Divi Black Friday Feature Booster Bundle!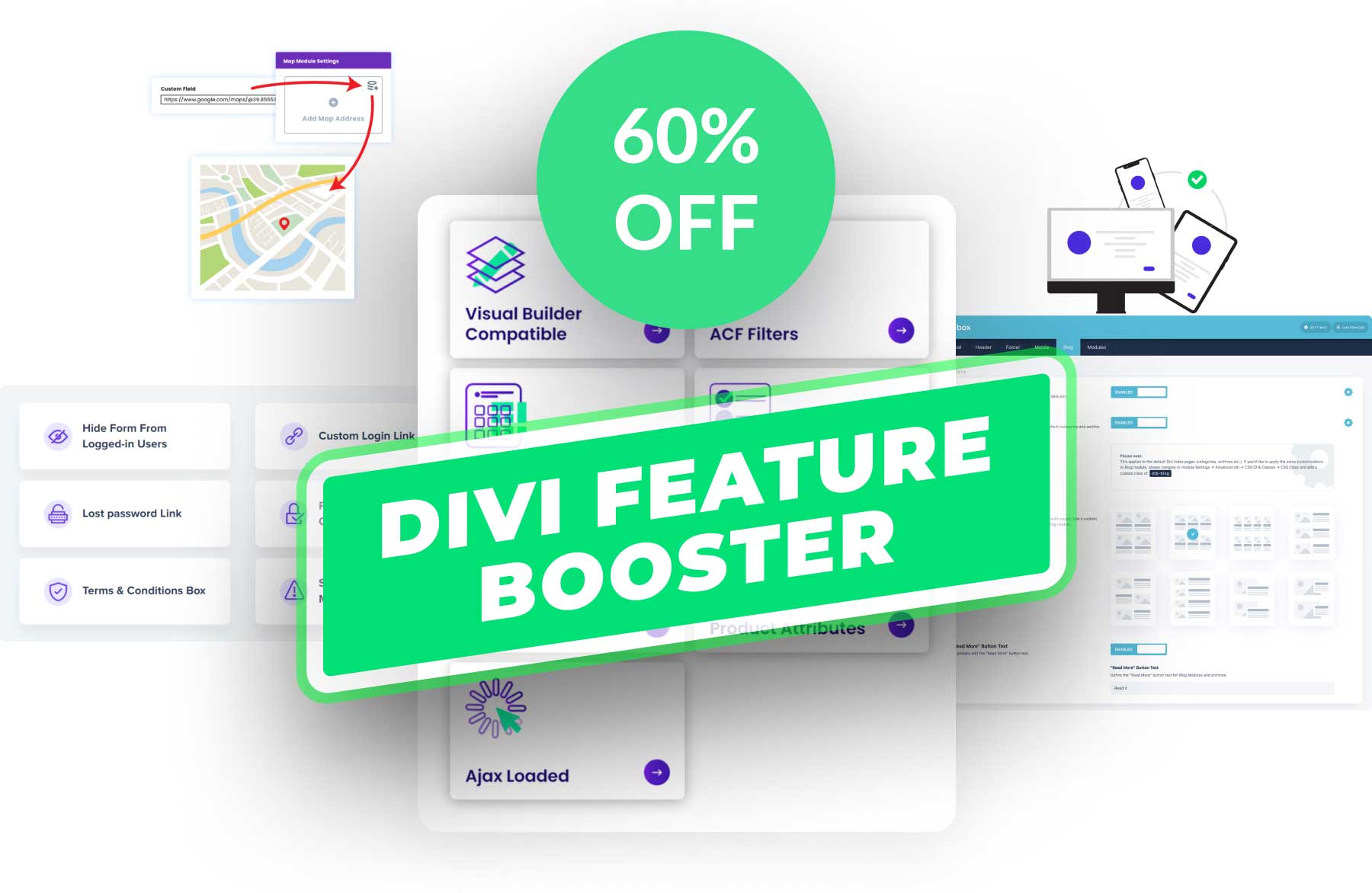 This is the ultimate bundle for those who are looking to push Divi's extensive functionality even further. Every product featured in this bundle extends Divi's standard features and increases your website-building prowess. You'll get products to enable more visibility options, create popups, add ajax search functionality, make advanced tabs, expand on Divi's contact form module, and much more.
You won't want to miss out on this bundle. Get over to the sale now to take advantage of a 60% discount on fourteen of the most popular products in the Divi Marketplace. This is a once-a-year opportunity only available right now, during the Black Friday sale.
Unlock Amazing Black Friday Perks–FREE Design Resources & Additional Deals by Top Marketplace Creators
Making your first purchase during the Divi Black Friday Sale is where the fun really begins. Once you do (or, if you happen to already be a Lifetime Member) you'll notice a new "Perks" tab in your Members Area. There we've assembled a huge slate of additional deals in the Divi Marketplace as well as over 50 exclusive, FREE Divi layouts and templates you can download instantly.
Shop Hundreds of Products at up to 60% Off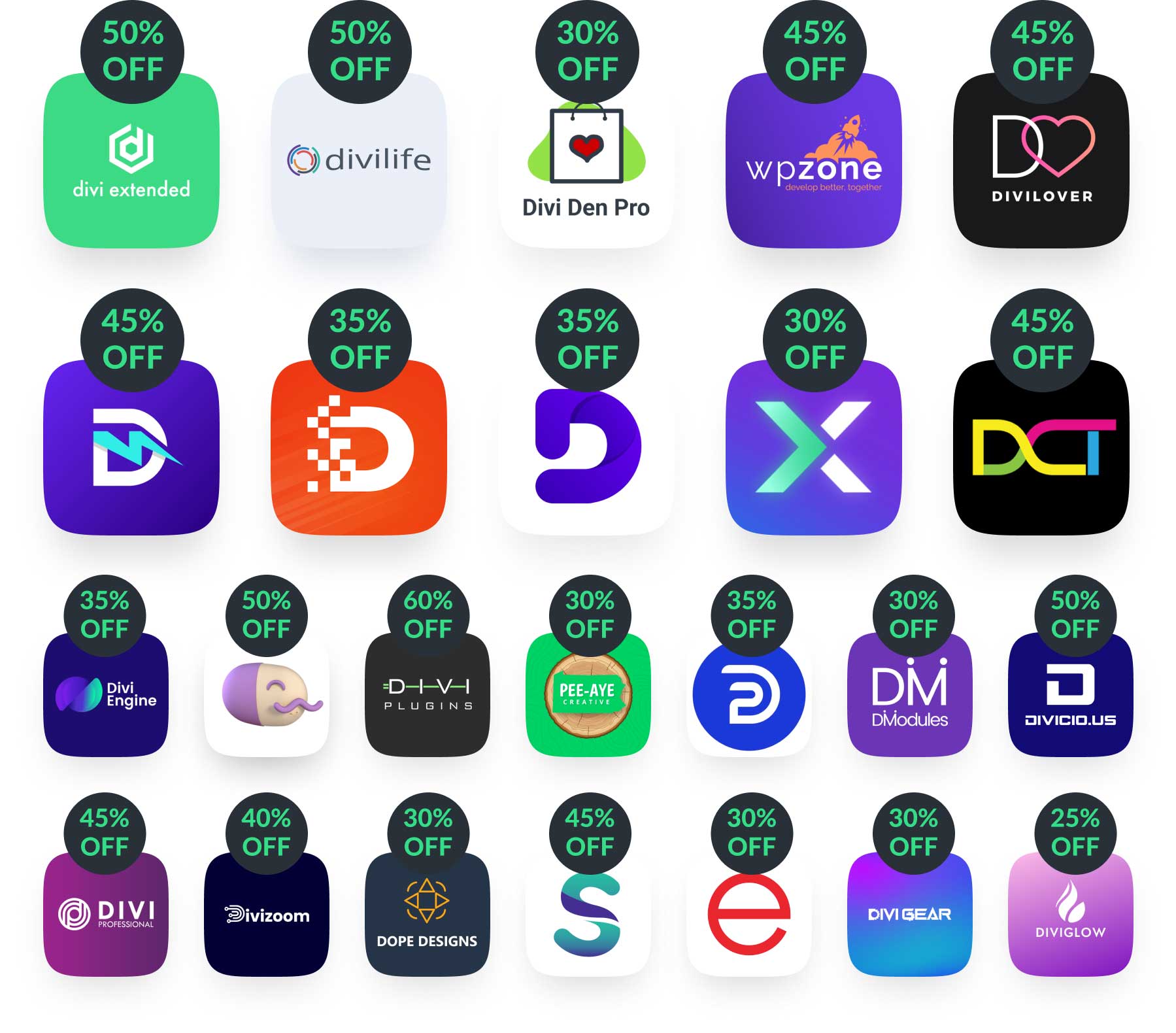 Many of our marketplace creators are generously offering their ENTIRE CATALOG of products at steep discounts of up to 60% off during our amazing Black Friday sale. But only for existing Lifetime Members or anyone who participates in this year's Black Friday Sale. There are so many great deals up for grabs that you're going to need a spreadsheet to keep track of all the products you want! In order to get your hands on 25%, 35%, or even 60% off the entire product catalogs of all the amazing partners pictured above, head over to the sale right now!
Gain Instant Access to 50+ Exclusive FREE Divi Layouts & Templates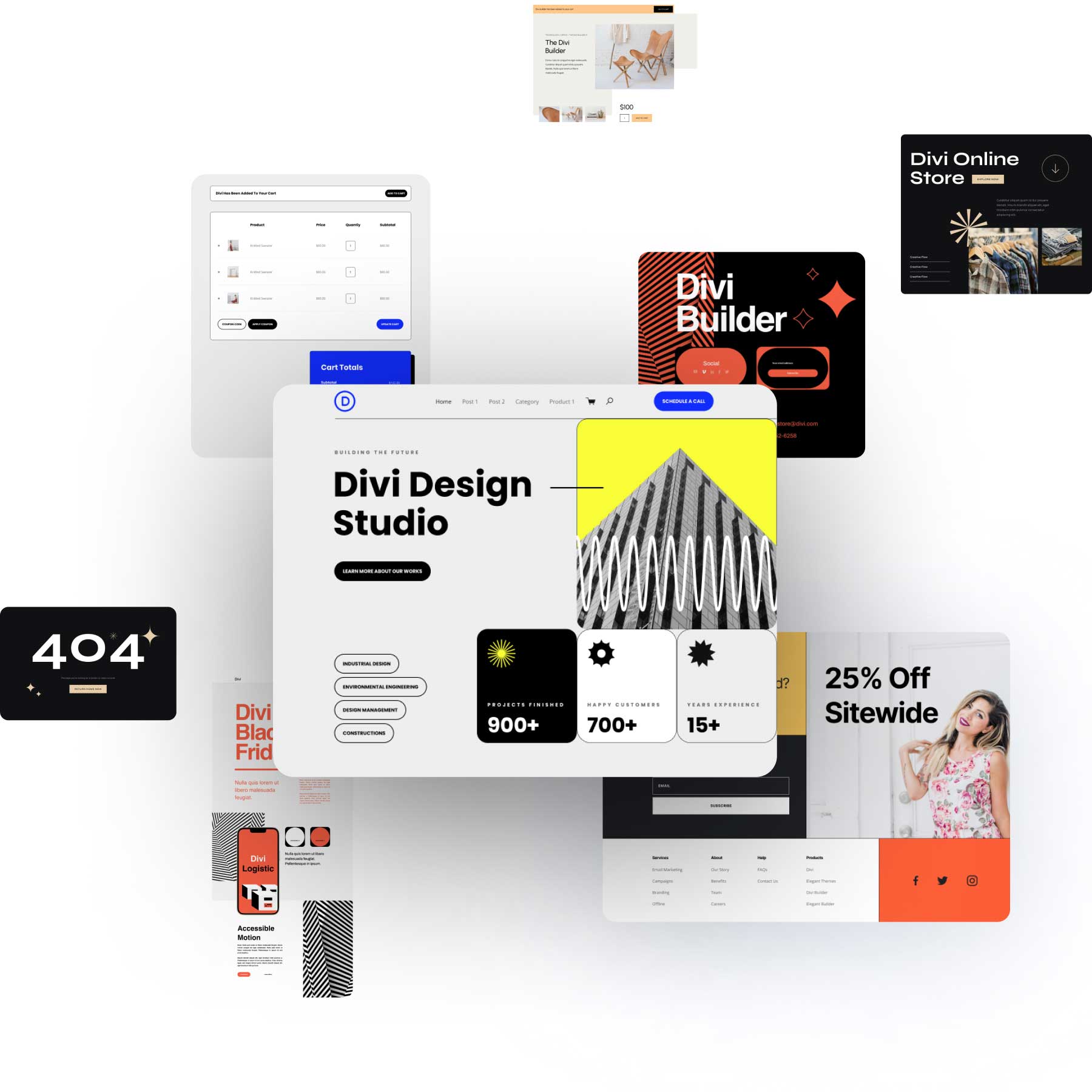 From headers to footers, page layouts to page templates, and even WooCommerce product pages–we've got you covered with this year's exclusive, FREE Divi Black Friday layouts and templates. These freebies are only available during the sale. Once the sale is over, they're gone forever. Act now to get these professionally designed assets for free!
Full-site Theme Builder Packs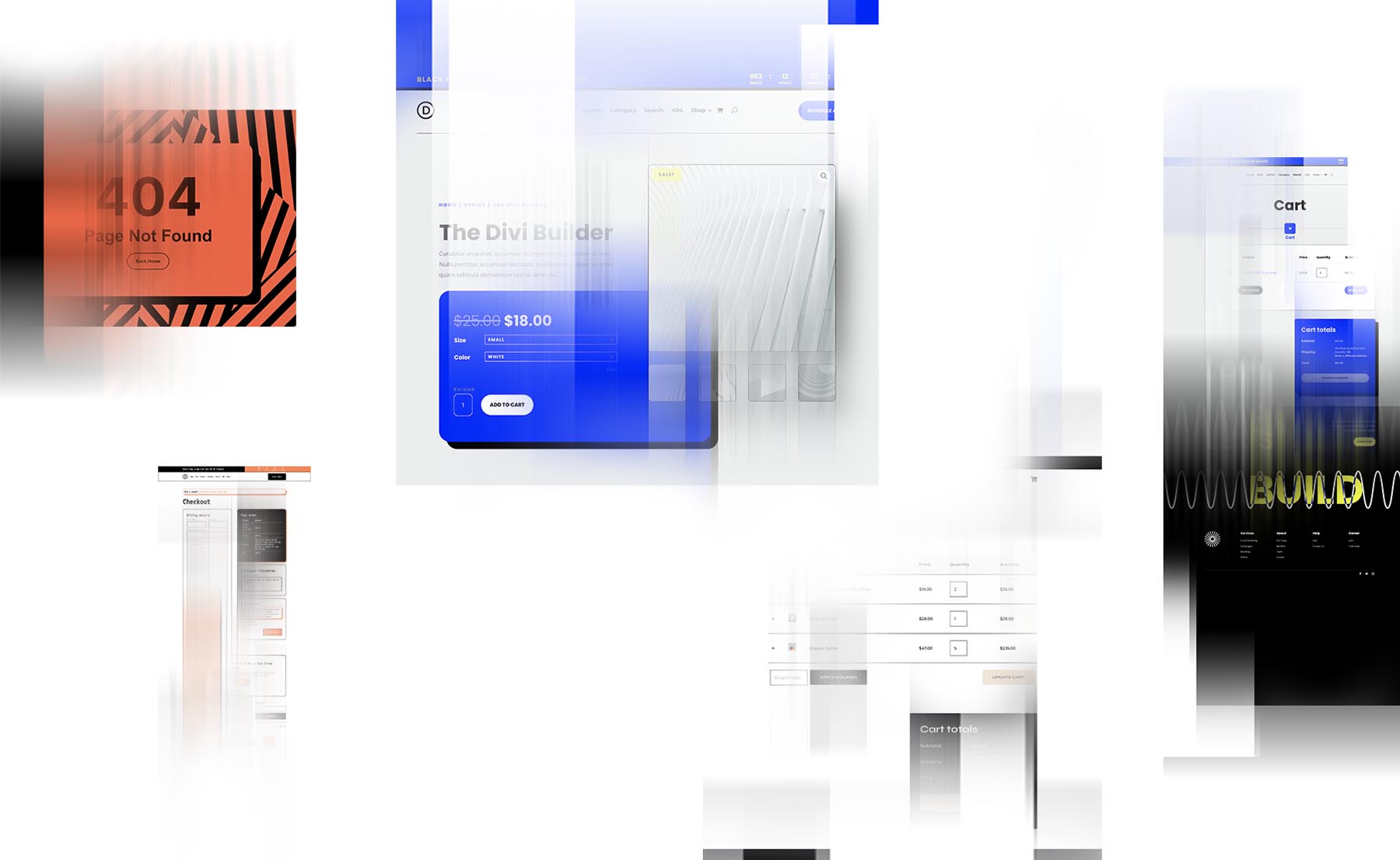 Get a fully designed website in a few clicks with these amazing full-site theme builder layout packs. You'll get everything you need to spin up your new website with header and footer templates, dynamic page templates, and Woocommerce product pages that encourage your site's visitors to complete purchases.
Landing Page Layouts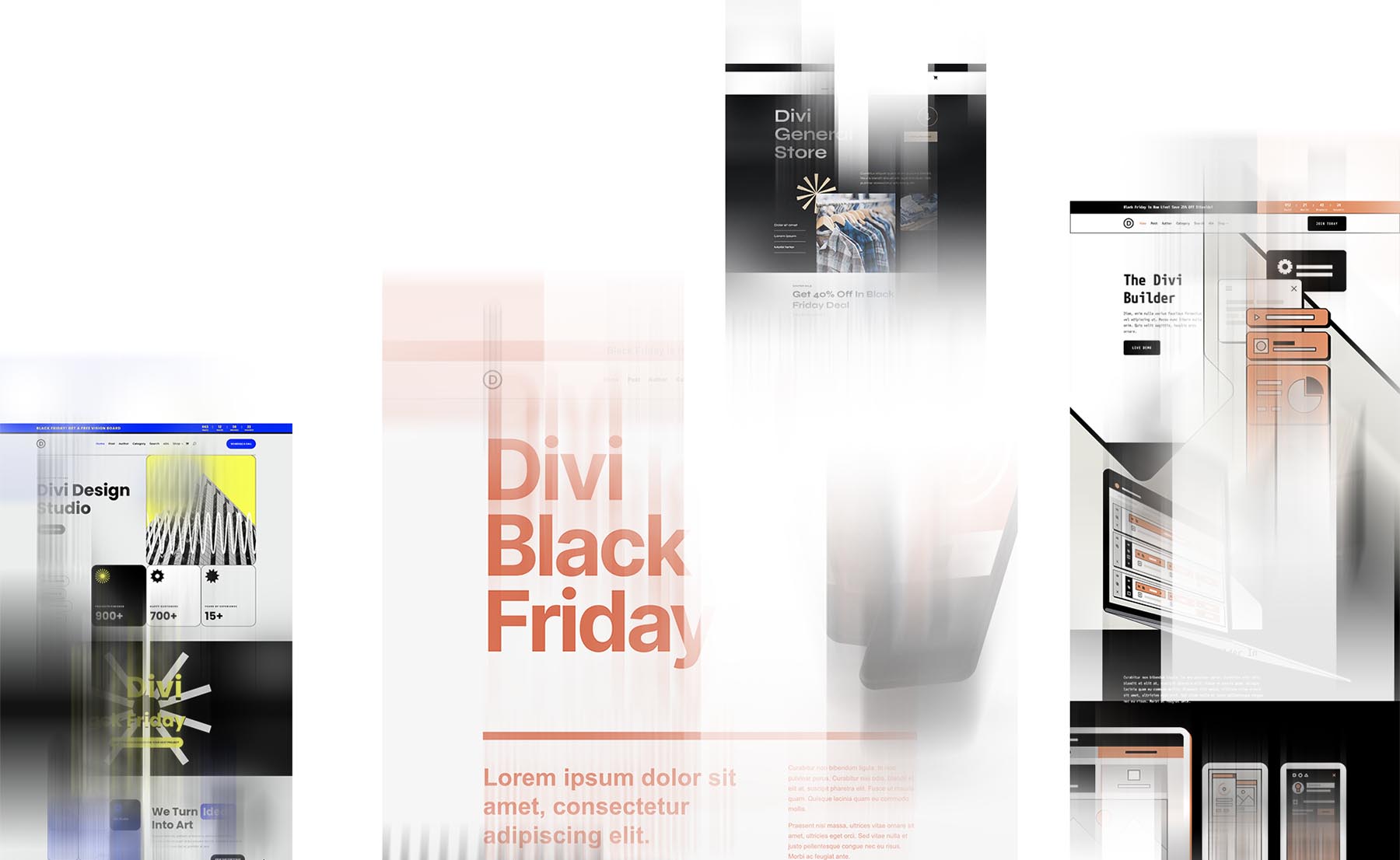 Landing pages are essential to a successful website. Keep your site's visitors engaged with these stunning landing page layouts designed to make folks take notice and act. Only available during this Black Friday Sale!
Global Headers and Footers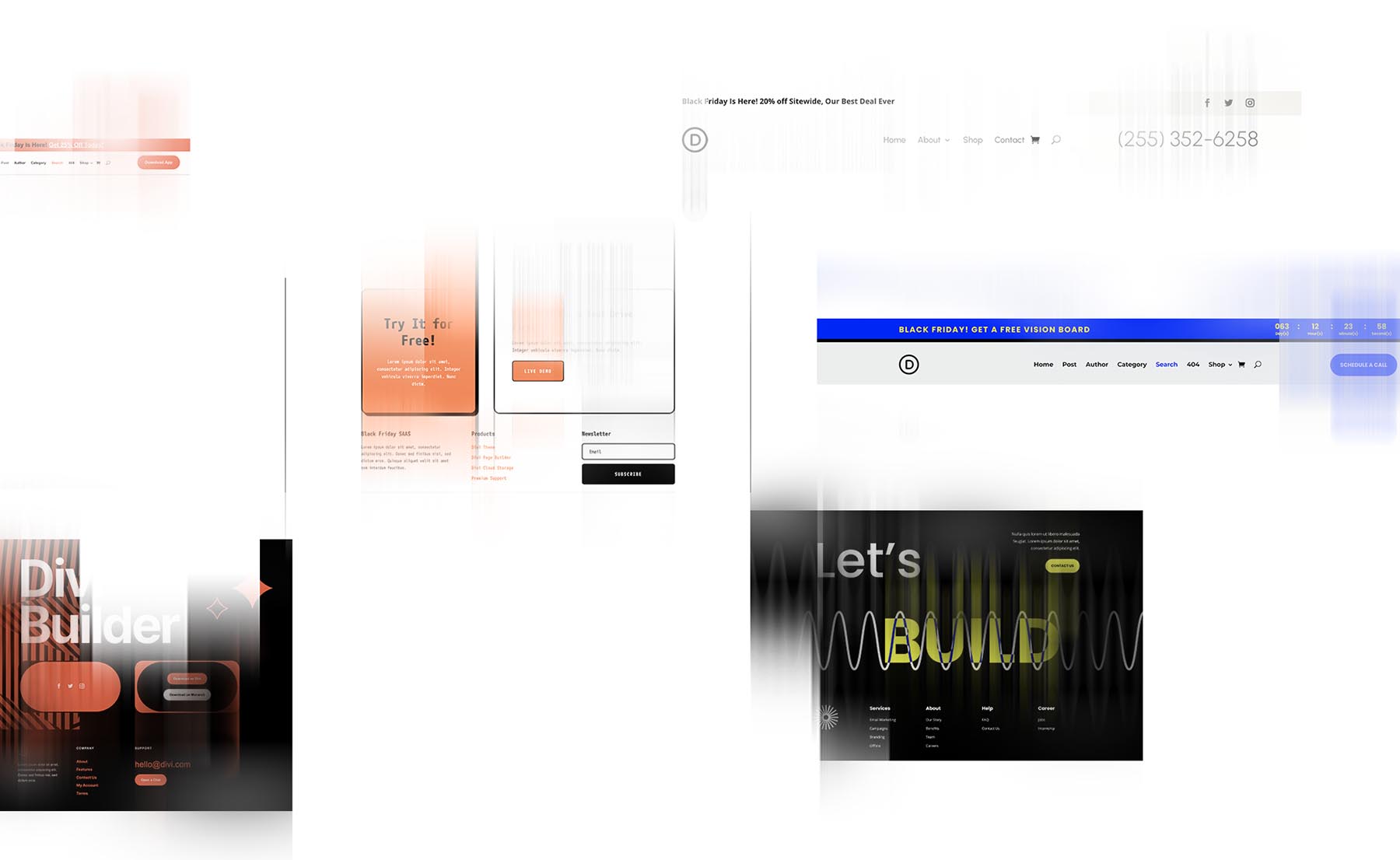 You won't have to stress over creating the perfect header or footer with these packs. Just click and go with any of these templates that are made with a mobile-first design. Want to match the style and color of your own site? No problem, it's only ever a matter of a few clicks with Divi's advanced design options. But act fast, they're only available during the Black Friday Sale!
WooCommerce Product Templates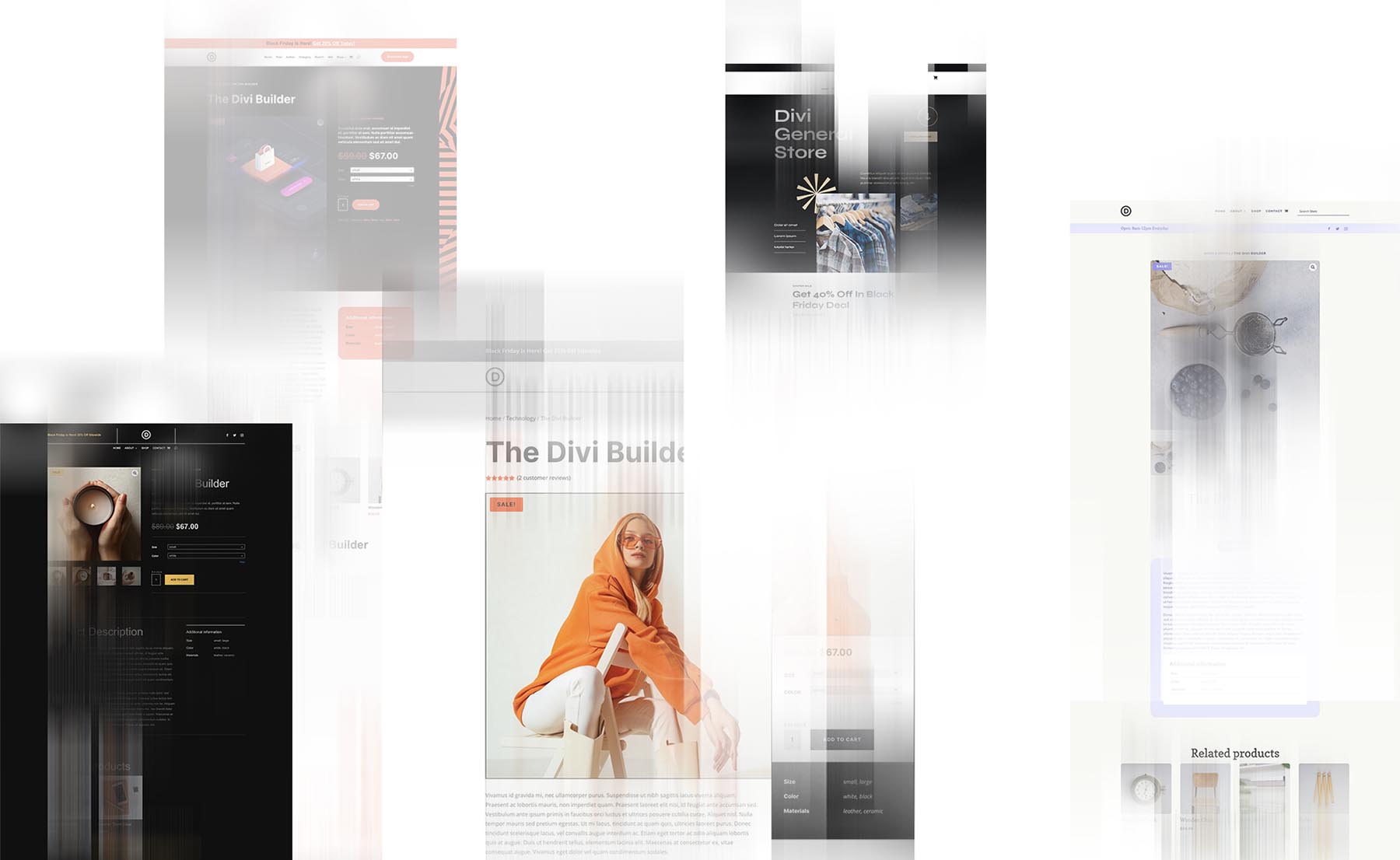 Have your website's sales fallen flat? Don't fret. Feast your eyes on exclusive Divi WooCommerce Product Page templates that will breathe new life into your site's products. Each template comes packed with 20+ customizable Woo modules to give you granular control over both design and content. They're yours for free IF you participate in this year's Black Friday Sale.
Do Not Miss Out on Our Best Sale of All Time!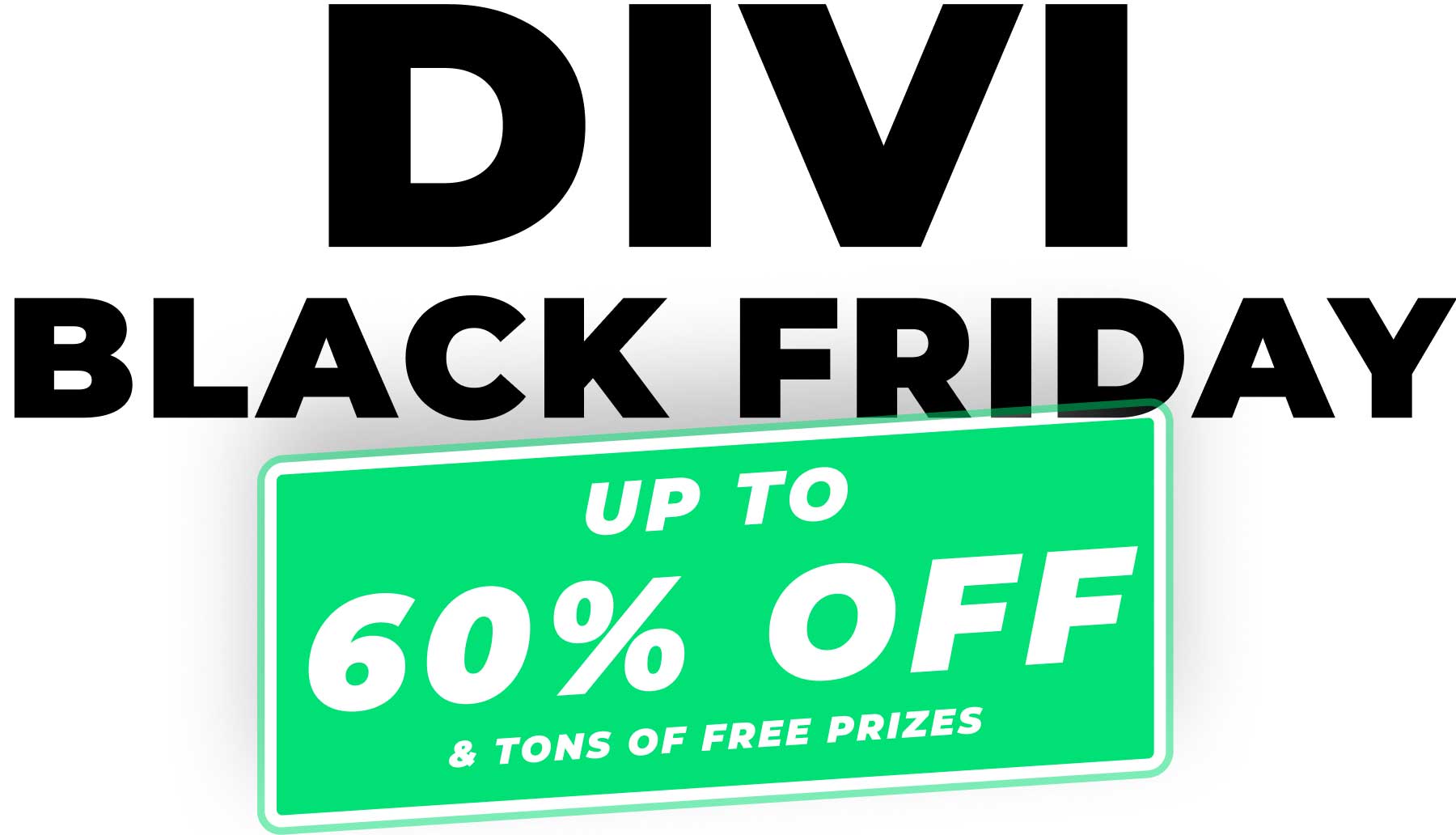 We've never put on a sale quite like this one. It's the first time Divi Teams and Divi Cloud are getting the Black Friday treatment and we've never had as many prizes, perks, and insanely good deals. If there's one sale this year you want to make sure you get in on, it's this one!